sdcTable Vignette
About this vignette
The purpose of the sdcTable vignette is to show how to get up and running with sdcTable; for details, including a complete list of options, consult the help pages or the manual for the following main functions of the package:
How to protect data - An overview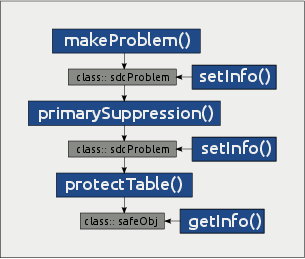 The main functions that are exported to users are shown in Figure 1.
Function makeProblem() is used to create objects of class sdcProblem. Instances of class sdcProblem hold the entire information that is required to perform primary or secondary cell suppression such as assumed to be known upper and lower cell bounds or upper-, lower- or sliding protection levels that are required to fulfill when solving the secondary cell suppression problem. All this information can be modified using function setInfo().
primarySuppression() is applied to objects of class sdcProblem. By setting function parameters users can choose and apply a pre-defined primary suppression rule. Using setInfo(), one can easily implement a custom primary suppression rule, too.
Function protectTable() is used to protect primary sensitive table cells in objects of class sdcProblem. A successful run of function protectTable() results in an object of class safeObj. Using getInfo() one can extract information from objects of such class, most importantly of course a data set containing all table cells along with the suppression pattern.
More detailed information on all the possibilities is available in the help-files, additional information is given in the corresponding sections of this vignette that deal with specific functions. The first step however to get started is to load the package, which can easily be done as shown below:
## [1] '0.32.6'
A simple example
We now walk through the steps that are required to protect tabular data using sdcTable. In the first example we are going to protect table cells given a three-dimensional tabular structure with some sub-totals.
We will start by discussing input data sets in sections "Starting from microdata" and "Using aggregated data". Then we continue by discussing how to define and describe dimensional variables in "Defining hierarchies" which is a crucial step in the entire procedure. Once the hierarchies are defined it is necessary to create suitable objects as described (here) that can be used to identify and suppress primary sensitive cells. This is shown in section "Identifying sensitive cells". Finally we discuss how to "protect primary sensitive table cells".
Throughout it is also shown how to set and extract information from the objects we are working with using functions getInfo() and setInfo().
A lot of work has gone into the rewrite of sdcTable using S4-classes and methods in order to robustify the code and in order to make it easier in future to add new algorithms such as rounding- or cell-perturbation methods and features.
I would really like to hear any kind of feedback and will be more than happy to work in patches you submit or ideas any one might have which would make it easier to work sdcTable. Also, the next step in the evolution of the package will be performance optimization, evaluation for possibilities of parallel computing and so on. I would really like to hear any kind of feedback on package users on these kind of things. Thus, for any remarks, please do not hesitate to contact me using my e-mail adress bernhard.meindl@statistik.gv.at.